RIDING ROMANCE 2—DAS NEBELMEER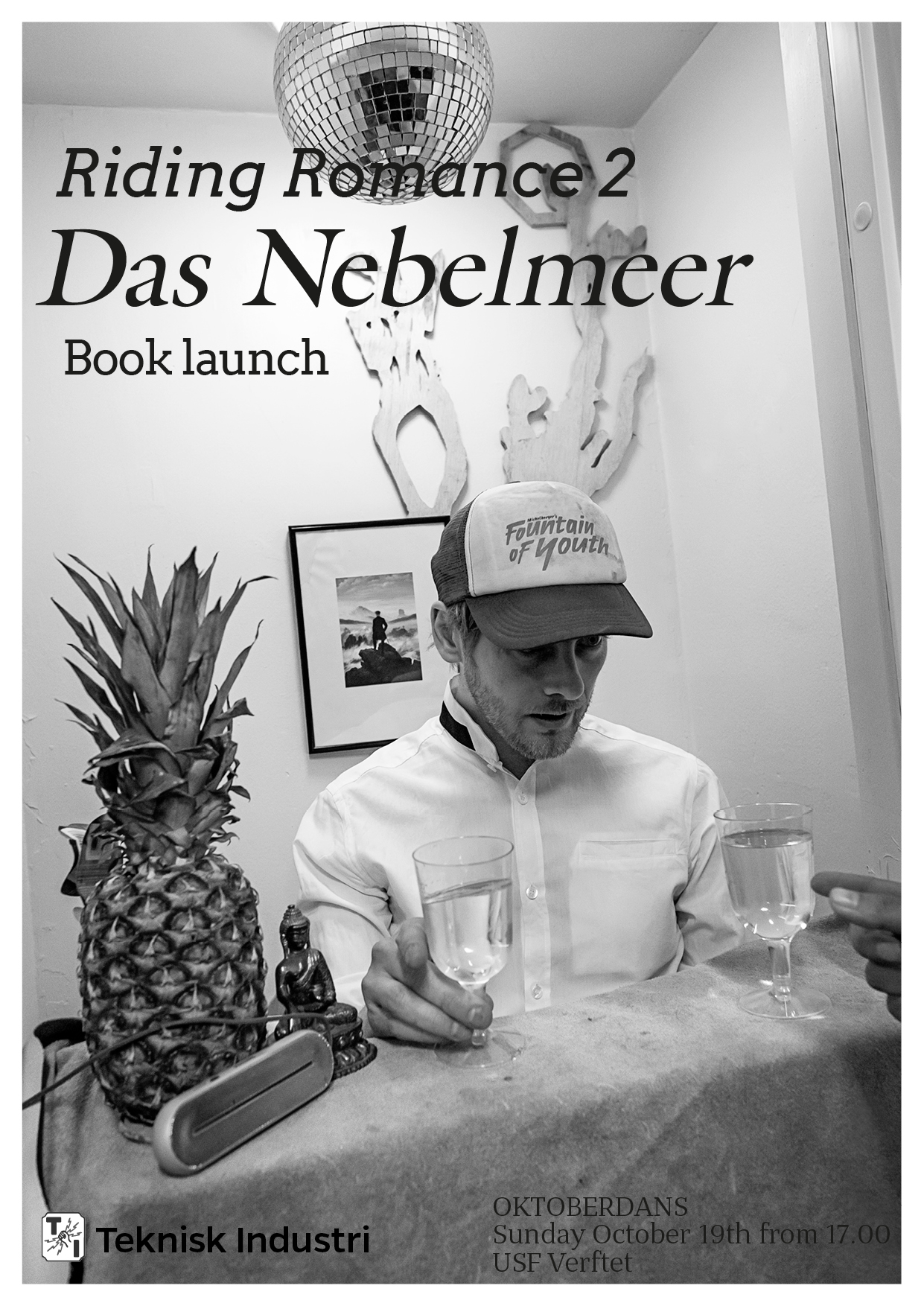 LOS ANGELES, CA
LA Art Book Fair, the Geffen Contemporary at MOCA ︎︎︎ 12. februar 2016

OSLO, NO
Kunstnernes Hus ︎︎︎ 16. januar 2015

HAMMERFEST, NO
DanseFestival Barents ︎︎︎ 07. november 2014

BERGEN, NO
Oktoberdans, USF Verftet ︎︎︎ 19. oktober 2014

NEW YORK, NY
NY Art Book Fair, MoMA PS1 ︎︎︎ 26. september 2014

I forestillingstrilogien Riding Romance tar koreograf Henriette Pedersen utgangspunkt i tre ikoniske verker fra Romantikken – og lager sine egne sceniske reaksjoner på dem. Denne andre delen av serien er en reaksjon på Caspar David Friedrichs bilde Der Wanderer über dem Nebelmeer. Pro-duksjonen ble utviklet under et opphold ved atelierprogrammet W17 på Kunstnernes Hus i Oslo sammen med Frido Evers, Kristine Karåla Øren, Elisabeth Breen Berger, Tilo Hahn m.fl.

I løpet av tre visningsperioder var atelieret åpent for publikum, inkludert et lite knippe spesielt inviterte 'reaksjonærer'. Slik Pedersen og hennes team gjennom sin prosess har filleristet og utforsket Friedrich og hans maleri, ble Kristin Berget, Diana Damian Martin og Julian Blaue invitert til å komme med tekstlige reaksjoner på det sceniske. Tekstene er samlet i boken, sammen med et innledende essay ved redaktør Anette Therese Pettersen og fotografisk dokumentasjon av Sveinn Fannar Jóhannsson.

***

In the production trilogy Riding Romance, choreographer Henriette Peder-sen takes three iconic works of Romanticism—and creates her own scenic reactions to these. This second installment of the series is a reaction to Caspar David Friedrich's painting Der Wanderer über dem Nebelmeer. The production was developed during the residency program W17 at Kunstnernes Hus in Oslo together with Frido Evers, Kristine Karåla Øren, Elisaeth Breen Berger, Tilo Hahn et al.

During three showings, the atelier was opened to the public as well as a small collection of specially invited "respondents." In the same way that Pedersen and her team have, through their process, shaken to pieces and explored Friedrich and his painting, Kristin Berget, Diana Damian Martin and Julian Blaue were invited to contribute textual reactions to the scenic portrayals. The texts are collected in the book, together with an introductory essay by editor Anette Therese Pettersen and photographic documentation by Sveinn Fannar Jóhannsson.
Forlag: Teknisk Industri
Oslo, Norge: 2014
Kunstnere: Henriette Pederse, Elisabeth Breen Berger, Kristine Karåla Øren, Thilo Hahn, Katrine Ganer Skaug, Frido Evers, Morten Kippe
Redaktør: Anette There Pettersen
Tekster: Kristin Berget, Diana Damian Martin, Julian Blaue
Design: Sveinn Fannar Jóhannsson
Fotograf: Sveinn Fannar Jóhannsson
Softcover: 151 × 192 × 12 mm
120 pages
Offset print
Opplag: 500
ISBN: 978-82-93281-06-1